I made this sweet smelling lavender filled pillow...
for one of you!!!!
made from a vintage napkin...
and ruffles from a vintage baby dress...
pillow measures 10"L x 5"W, with ruffles, 18"L...
filled with four cups of organic lavender...
I am joining Twice Remembered's 5th Annual Cottage Charm Giveaway!!!!
its a fun giveaway with lots of blogs having great giveaways.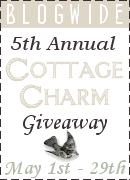 I will choose a winner May 29th, but post it on June 1st.
all you have to do is leave a comment for one entry, if you are a follower you get two,
and oh....love lavender!!!!
good luck.
I am also joing these parties...
Faded Charms White Wednsedays
Savvy Southern Styles, Wow Us Wednsedays